United States Bankruptcy Court
Welcome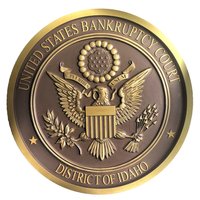 Welcome to the U.S. Bankruptcy Court for the District of Idaho.
We hope this website will provide useful information about the Court, its operations and its processes, and answer many of the questions you might have. Please let us know if you have suggestions to improve the site.
Below you can find the latest news from the Bankruptcy Court for the District of Idaho.

The calendar updates as new information becomes available and is subject to change without notice. To schedule a hearing, contact the courtroom deputies.


Proposed Dates for Chief Judge Joseph Meier 2021

Proposed Dates Judge Noah G. Hillen 2021 Rev 3/9

341(a) Meeting of Creditor Dates 2021
Revised April 16, 2021

District of Idaho Courthouses Closed - May 31
May 17, 2021

Now Accepting Lawyer Representative Applications
May 17, 2021
The District is seeking a new Lawyer Representative from the 1st or 2nd Districts. Please see the attachment for further info.

New GO 396 re Court Operations During Stage IV
May 12, 2021
Order addressing Court operations during Stage IV of Idaho's reopening plan.

Posting for US Magistrate Judge, Yellowstone NP
May 03, 2021
The District of Wyoming is seeking applications for a US Magistrate Judge in Yellowstone National Park, Wyoming.

New GO 394 re Updated ECF Procedures
Apr 09, 2021
Updated procedures for electronic case filing with the Court.

New GO 395 re Fax Filing
Apr 09, 2021
Updated procedures regarding filing by fax with the Court.

Print Me