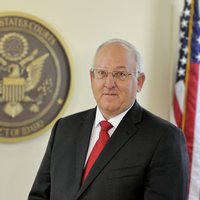 Chief Judge B. Lynn Winmill welcomes you to the U.S. District Court for the District of Idaho. In 1891
was appointed by President Harrison to become the first Federal Judge for the District of Idaho. We have a long and proud history rooted in our commitment to provide an impartial and accessible forum for the just, timely and economical resolution of legal proceedings within the jurisdiction of the Courts.
The District of Idaho has had 11
Judges appointed by the President of the United States, with two of them currently presiding. In addition to our two Article III Judges, we have three Magistrate Judges assisting with our busy workload.
Our judges hold court in Boise, Coeur d'Alene, Moscow and Pocatello.

The calendar updates as new information becomes available and is subject to change without notice. To schedule a hearing, contact the courtroom deputy.


District of Idaho Courthouses Closed - July 4
Jun 20, 2017
The District of Idaho Courthouses will be closed on July 4 in observance of Independence Day.

Change in Jerome 341(a) Meeting Location
Jun 16, 2017
There will be a temporary change in the 341(a) Meeting effective July 1st.

Stephen W. Kenyon selected as Clerk
Jun 15, 2017
Stephen W. Kenyon appointment as Clerk of Court will begin June 19.

Revised Criminal Procedural Order effective June 1
Jun 01, 2017
The District Court has entered General Order #319-Revised Criminal Procedural Order.

Civics Contest Finalists Announced
May 30, 2017
Congratulations to our local contest winners!

Interactive Database to Search Judiciary Trends
May 16, 2017
The FJC has recently enhanced it's database that houses information about federal case filings.

Tri-State FBA Conference Oct. 5-7 - Jackson, WY
May 16, 2017
The 13th Annual Tri-State Conference program information is available. Hotel and conference registration is now open.

Northern Idaho Jury Scam
May 05, 2017
Individuals are posing as Federal Court and Kootenai County Sheriff Officials in order to scam citizens out of money.

Message from Judge Pappas to the Bankruptcy Bar
Mar 22, 2017
Judge Jim Pappas has released a message to the Idaho bankruptcy bar regarding his intention to retire.