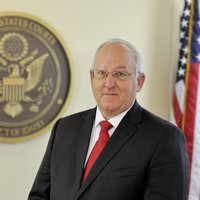 Chief Judge B. Lynn Winmill welcomes you to the U.S. District Court for the District of Idaho. In 1891
was appointed by President Harrison to become the first Federal Judge for the District of Idaho. We have a long and proud history rooted in our commitment to provide an impartial and accessible forum for the just, timely and economical resolution of legal proceedings within the jurisdiction of the Courts.
The District of Idaho has had 11
Judges appointed by the President of the United States, with two of them currently presiding. In addition to our two Article III Judges, we have three Magistrate Judges assisting with our busy workload.
Our judges hold court in Boise, Coeur d'Alene, and Pocatello.

The calendar updates as new information becomes available and is subject to change without notice. To schedule a hearing, contact the courtroom deputy.


Operations Specialist Vacancy
Feb 08, 2018
The District of Idaho is now accepting applications for a full-time Operations Specialist in Pocatello.

The District of Idaho courthouses closed - Feb 19
Feb 05, 2018
The District of Idaho courthouses will be closed on Monday, February 19 in observance of Presidents' Day.

36th Annual Bankruptcy Seminar Feb 15-17
Jan 31, 2018
Join the Commercial Law & Bankruptcy Law Section their 36th Annual Bankruptcy Seminar.

2018 Civics Contest
Jan 30, 2018
150 Years After Ratification of the 14th Amendment: What Does Equal Protection Mean to Students?
New General Order #324
Jan 17, 2018
A new General Order has been entered which amends GO# 237 and District Local Civil Rule 73.1 regarding the consent process.