United States District & Bankruptcy Courts
Welcome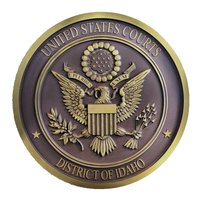 The District of Idaho Clerk of Court welcomes you to the U.S. District and Bankruptcy Courts for the District of Idaho. We are one of 15 districts in the Ninth Circuit which spans 9 western states. Idaho is proud to be one of only four consolidated District and Bankruptcy Clerks' Offices within the federal judiciary.
The U.S. Courts for the District of Idaho was created with statehood in 1890. Our offices are located in Boise, Coeur d'Alene, Moscow and Pocatello.
We trust this website will give some insight into the functions of the U.S. Courts and how the Clerk's Office can better serve the people of the State of Idaho.

FBA Brown Bag CLE - Coeur d'Alene- Aug 16
Jul 20, 2017
**UPDATE** Join Chief Judge Winmill will be introducing Judge David C. Nye. Lunch will be provided.

Notice re 2018 Lawyer Representative
Jul 18, 2017
Attn 4th District attorneys: If you are interested in becoming a District of Idaho lawyer representative, deadline is Sept 15.

2017 All-Star Conference & Confabulation
Jul 10, 2017
Thursday, September 14: Capital Habeas Day; Friday: Trial Day

Jury Scam in Idaho
Jun 28, 2017

Change in Jerome 341(a) Meeting Location
Jun 16, 2017
There will be a temporary change in the 341(a) Meeting effective July 1st.

Stephen W. Kenyon selected as Clerk
Jun 15, 2017
Stephen W. Kenyon appointment as Clerk of Court will begin June 19.

Revised Criminal Procedural Order effective June 1
Jun 01, 2017
The District Court has entered General Order #319-Revised Criminal Procedural Order.

Civics Contest Finalists Announced
May 30, 2017
Congratulations to our local contest winners!

Tri-State FBA Conference Oct. 5-7 - Jackson, WY
May 16, 2017
The 13th Annual Tri-State Conference program information is available. Hotel and conference registration is now open.

The mission of the United States District and Bankruptcy Courts for the District of Idaho is to provide an impartial and accessible forum for the just, timely and economical resolution of legal proceedings within the jurisdiction of the Courts, so as to preserve judicial independence, protect individual rights and liberties, and promote public trust and confidence.

Print Me